Continue reading What Type of Condo Do I Buy: New (pre-construction) or Resale?
There is no definite answer or choice on this question. Both brand new and pre-owned condo units have their own sets of advantages and drawbacks.
In order to make a big difference in your overall happiness, here are a few points you may find helpful to consider.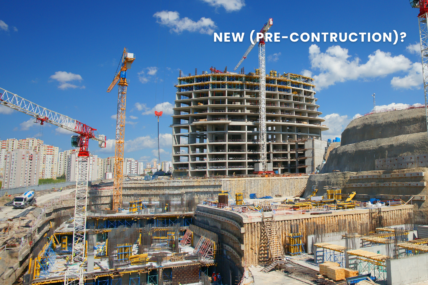 New
A pre-construction condo (also known as a presale property) is a property that you are committing to purchase before it has been built. It may even be just a concept for a future building on an empty lot. With that in mind, your opportunity to move in can be somewhere 2-5 years away from you signing the contract. You would be purchasing directly from the developer or builder in this case.
Custom choices
As the first owner of the unit, you will likely have some options and upgrade choices to customize things like the color scheme, cabinetry, appliances, and flooring.
Warranty
There will be 2 year, 5 year, and 10-year New Home Warranty and/or deficiency audits. This provides some comfort knowing you have some assistance in this area if anything isn't functioning properly.
Contract
You will be signing a contract prepared by the developer/builder. After working through the contract with your agent, it will be imperative to review the numerous clauses in it with your lawyer. You need to pay special attention to clauses around potential changes to your unit, including size. Equally important is wording pertaining to potential delays and what happens if the timeline stretches longer than originally expected.
Can the developer cancel your contract if the market is heating up and prices are rising? Will you be informed if building plans change and you now can expect a noisy heating apparatus or vent outside your bedroom window?
These are important questions to consider and ensure you are comfortable with all the contract details. You need to be honest with yourself about your risk tolerance.
Deposit & Financing
Often your deposit will be due in stages over a period of time. This may make it easier for you initially, but you also need to consider what your situation will be 2 years down the road when it's time to obtain a mortgage. Will you have the same employment? What happens if the market for condos is falling or rising? Can these potential factors affect you? Does the developer have a term in the contract allowing them to cancel the contract with the deposit returned as sole remedy for liquidated damages? These are very important questions that need careful consideration.
Community
Are you comfortable with possibly moving into a partially finished building and/or community? Everything is new and there will be no established community in the building yet, so you won't be able to get a feel for the overall culture.
GST
5% Goods and Services Tax will be due on the purchase of a new condo. You will need to budget for this expense.
Strata Plan
Consider the parking plan; is it large enough for your vehicle? Is it located next to a post or other barrier that might make it difficult to use? Similar details should be reviewed in regards to any storage locker on the plan, or common amenities like a fitness centre.
Buying a presale condo can be a very rewarding experience, but with every opportunity comes potential issues. Evaluate your personal goals and make an informed decision regarding the purchase.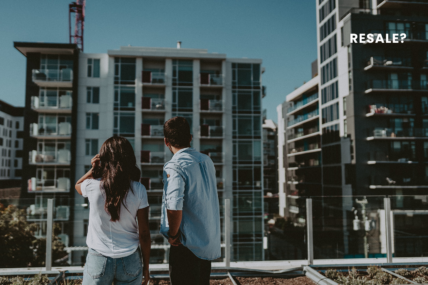 Resale
One of the biggest and most important differences with resale condos is you are buying a property you can actually stand in and see. You can measure, you can view the actual parking spot and/or storage locker. You can view the fitness centre. You can look out the window or from the balcony and get an exact feel for what's it like to live there.
No Customization
In most cases, you are buying the property as-is. Any changes or upgrades will need to be made by you; the unit may require updating in the kitchen, bath, flooring, etc at added cost to you. You will need to consider your budget for items such as this.
Move-in timeline
You will be able to negotiate your move-in date, often 4-6 weeks away. There may be flexibility that could allow you to plan better and suit your lifestyle right now.
Financing
You will know exactly what the terms of your mortgage will be right when you commit to the purchase. This provides you some certainty, and takes the guesswork out of knowing what your mortgage terms may be in a future 1-3 years away. When purchasing a resale home, you won't have to be concerned about any shifts in the market prior to closing.
Community
An already established community with strata meetings, minutes, history of maintenance and general culture of the building means you can make inquiries to find out if it's a good fit.
GST
There is no 5% Goods and Services Tax due, which is a direct savings.
Buying a resale property is the most straightforward way to buy a condo and decreases the amount of guesswork involved that you may find with a presale.
Conclusion:
When making the critical decision of purchasing a new or resale condo in the Victoria market, thoroughly evaluate the questions above. There are many other considerations, but these are a good start to help you make an informed choice of what may be most suitable for you.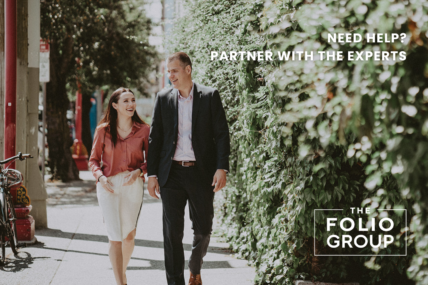 Need Help?
Experienced Real Estate Agents, like The Folio Group, can provide expert guidance to help you discover your best path. We have unique experience in knowing which developers have the best track records, which buildings are well-run, and also which ones have been known to have issues. All important information for you to make a wise choice you will be happy with.

Clover Residential | Where you want to be. Wherever you are.