At a Glance
Situated along Victoria's picturesque Inner Harbour, Downtown is a vibrant neighbourhood ideal for shopping, dining, and leisurely spending your day and night. Bike or walk, you're always near the waterfront as well as neighbouring urban villages.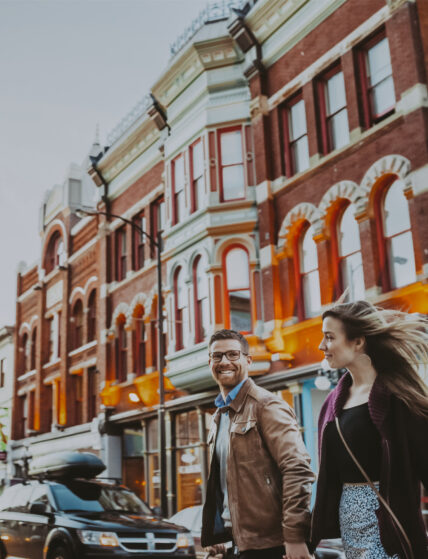 What to Expect
New high-rise condos sit next to heritage conversions, loft spaces, micro suites, and hidden flats above low-rise storefronts. Featuring an eclectic mix of residences, businesses, and services, Downtown and its micro-neighbourhood Humboldt Valley achieve the perfect balance with dynamic urbanism and walkable, friendly charm. Explore the local boutiques in the Design District around Herald Street, Mosaic Village on Upper Fort Street, and the intimate Lower Johnson (LoJo) area.
Neighbourhood Highlights
A Few of Our Favourite Spots
Habit Coffee

Both Downtown locations are friendly and inviting spots to enjoy a great cup of ethically sourced coffee and a treat.

Brasserie L'Ecole

This charming restaurant specializes in exceptional French fare and wine—just make sure to arrive early to get a table.

Crust Bakery

There's a reason this bakery usually has a line. That said, it moves quickly, and it's well worth the wait.

Chinatown

The oldest Chinatown in Canada, Victoria's Chinatown is fairly small but brimming with life, authenticity, and history.

The Fairmont Empress Hotel

A National Historic Site and one of Victoria's landmarks, the Empress is an architectural and historic gem.

Outlooks for Men

Stylish menswear, helpful staff, and in-house master tailors—this shop is reliably excellent.

Jucee

Discover tasty, convenient, and nutritious smoothies and açai bowls made with fresh, locally sourced ingredients.

Wind Cries Mary

We recommend Wind Cries Mary for fresh, flavourful West Coast fare, a great wine list, and a stunning space.
Previous Slide
Next Slide
Key Benefits
The Neighbours

Your neighbours are professionals and some smaller families who rent or own in the urban heart of the city and appreciate having easy access to the waterfront and everything Victoria has to offer.

The Lifestyle

Downtown invites you to explore the neighbourhood by foot and bike. By day, it's bustling with office workers, shoppers, and visitors. Destination entertainment venues and restaurants maintain the energy throughout the evening. Come Downtown for endless people-watching and entertainment; there's always something to see or do.

The Appeal

An energetic urban area set on the waterfront and surrounded by iconic Victoria neighbourhoods, Downtown is filled with independently owned boutiques, cafés, restaurants, pubs, and arts and culture venues. In recent years, the area has undergone an important rejuvenation, with developers and the city revitalizing historic buildings and prioritizing walkability along the waterfront. Harris Green and Chinatown are two micro neighbourhoods likely to see even more change and growth in years to come.
There's More to Discover
There are many more great neighbourhoods to explore! Check out our guide to the unique communities we live and work in.